Art Challenge
---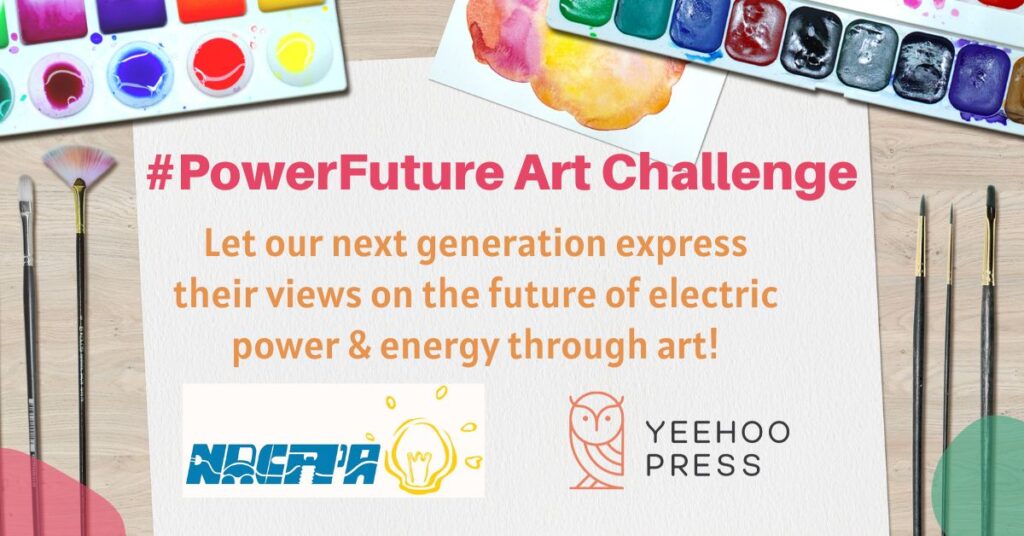 Here is how:
The Challenge:
The world is changing, the energy we use is becoming more sustainable, the buildings we live in are becoming more efficient, the lifestyles we lead are becoming more eco-friendly. With everything changing around us, how does our next generation think we should produce and use energy in the future?
Any rules?
We welcome any form or art, painting, computer graphic design, photo, etc., as long as it is about the future of electric power & energy.
How to enter?
Email [email protected] with the following information:
Attach the participant's work.
Participant's name & age.
Deadline for Submission:
October 9, 2022.
Who Can Participate?
Everyone between 8 – 11 and 12 – 15 years old. Each age group will be assessed separately.
Awards:
The following awards will be announced on December 11, 2022:
Best All-Around
Most Creative
Most Technologically Advanced
Best Scenery
Best Art Design
Questions?
Email: [email protected]
Where is Everything?
www.nacppa.org , www.yeehoopress.com
Committee Members:
Shay Bahramirad, Senior Vice President at LUMA Energy, President-Elect of IEEE Power & Energy Society.
Jiemei Lin: Senior Graphic Designer at Washington State University.
Jessica Lau: Energy Storage and Emerging Technologies Manager at Xcel Energy.
Gang Liu: Associate Teaching Professor of Chinese Studies at Carnegie Mellon University.
Junhui Zhao, Principal Engineer at ComEd, former Associate Professor at University of New Haven.
Jing Cheng: CEO of Noble Tree Publishing Inc., Editor-in-Chief, PiPa Magazine.
Helen H. Wu: Publisher at Yeehoo Press, children's book author and illustrator.
---
Organized by: